What a beautiful night of rock and roll at the Fonda Theater. Excuse while I get all 'hippie' here for a moment, but I just love the communal bliss that I feel at a Hold Steady show!
Singing along with a few hundred new friends...never ceases to make me happy. Just a great show on Wednesday night! Art Brut were amazing as well, and hearing 'Moving To La' IN Los Angeles was pretty cool, I have to admit...they totally worked the crowd into a fever pitch, which Craig and the rest of the Hold Steady somehow raised even a few notches higher!!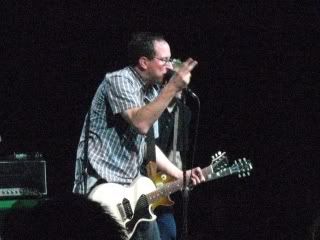 Got to hear three new songs...which were all incredible...can't wait for the next album! And This was the 4th time I have seen the HS and this was the most radically different setlist they have played yet...but of course they still closed with 'Killer Parties'...which OF COURSE brought the house down...just an amazing night...totally justifying their status as my favorite band!!!
---