A small, but enthusiastic crowd gathered in one of my favorite Los Angeles venues for a little mid week indie rock. Some of the hipster crowd was thankfully siphoned off by the Battles show taking place at the same time at the Music Box, and probably even some of the bigger Ted Leo fans were waiting until Wednesday and Thursday night when Ted and company are playing as an opening act for The Pogues.
Washington D.C.'s 'ShortStack' opened the festivities. I liked these guys a lot. The featured a stand up bass and a lot steel pedal guitar. They bookended their set with two killer covers, opening with The Kinks "Nothing In This World Can Stop Me From Worrin' Bout That Girl" and finishing with a rousing version of CCR's 'Swithcback Ride.' A band I will keep my eye and ear out for in the future.
Next up was Quasi. They were interesting, and never dull, and definitely hit the stage with a ton of energy. Well two thirds of them did, the bass player may have been a robot...or a cardboard cutout, I am not sure if I saw her move 6 inches all night! But I digress. Every time I started to get into a song, they would take off in some extended instrumental jam that wanted to be Sonic Youth but sounded more like kids clamoring away in their parents basement. Not horrible, just a little too ambitious I thought.
Ted Leo gives some of the best banter in rock n roll and he was on top of his game again last night. This was the 4th time I have seen them since their latest record 'Living With The Living' came out, so I know they have been on the road for what has to feel like ever, but you wouldn't know it from the energy exuded from the stage at the El Rey Theater on Tuesday night. They played most of the latest disc, as well as Leo fan favorites 'Where Have All The Rude Boys Gone', 'Me And Mia', 'Counting Down The Hours'...but the highlight for me was his inspired cover of Daft Punk's One More Time! Totally rockin' version of a great song! An excellent night of music indeed.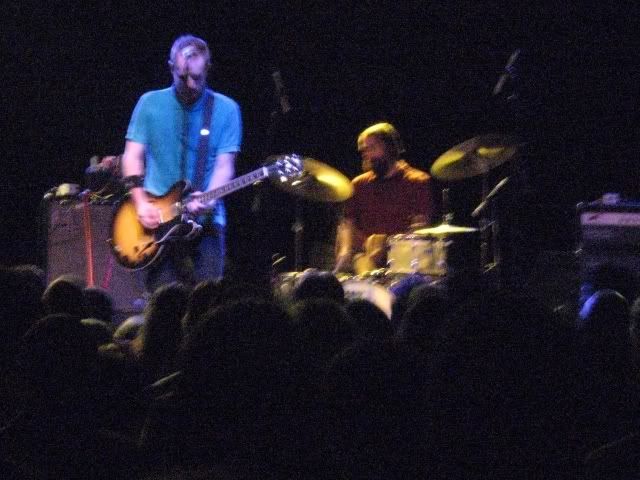 ---